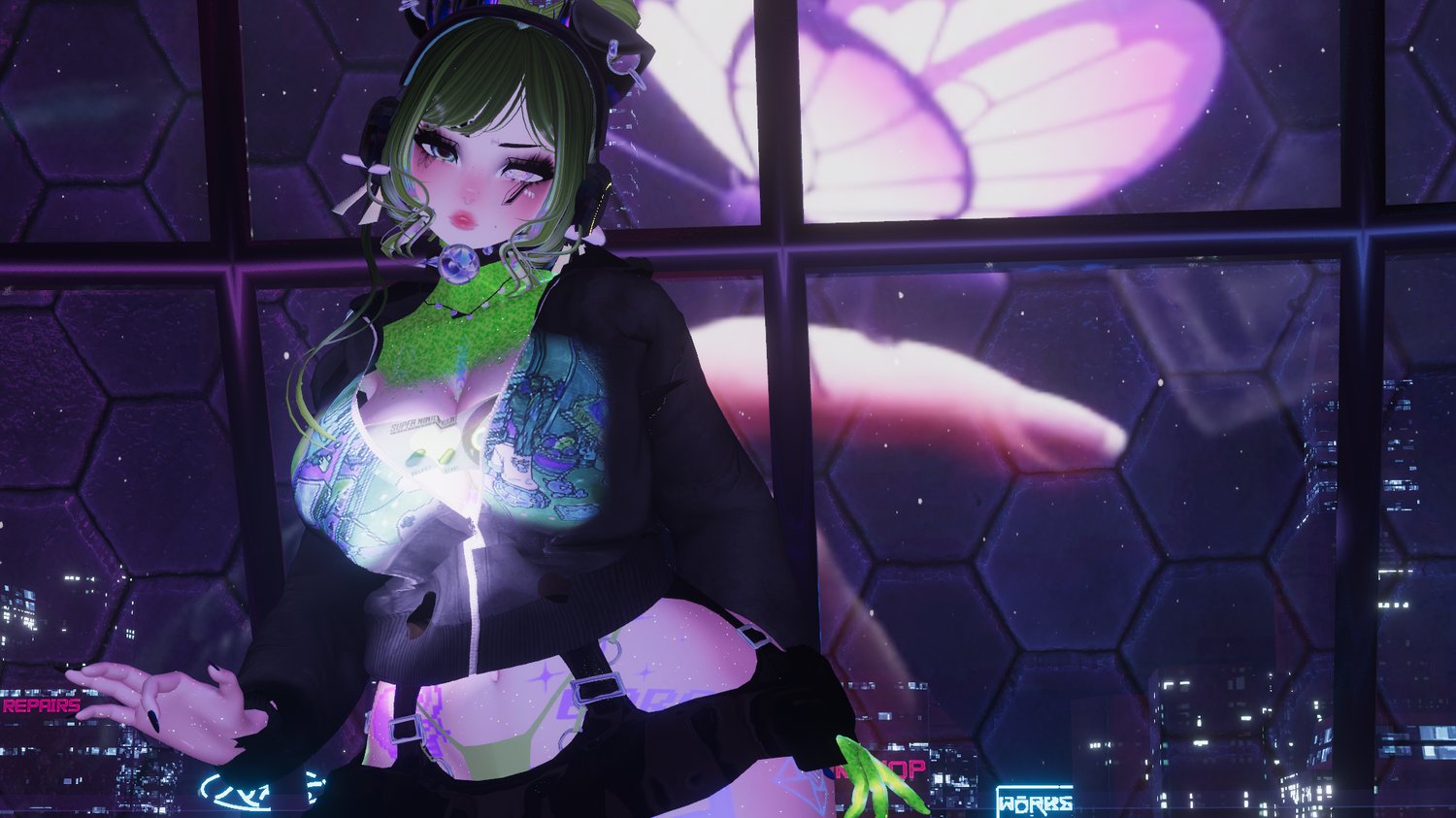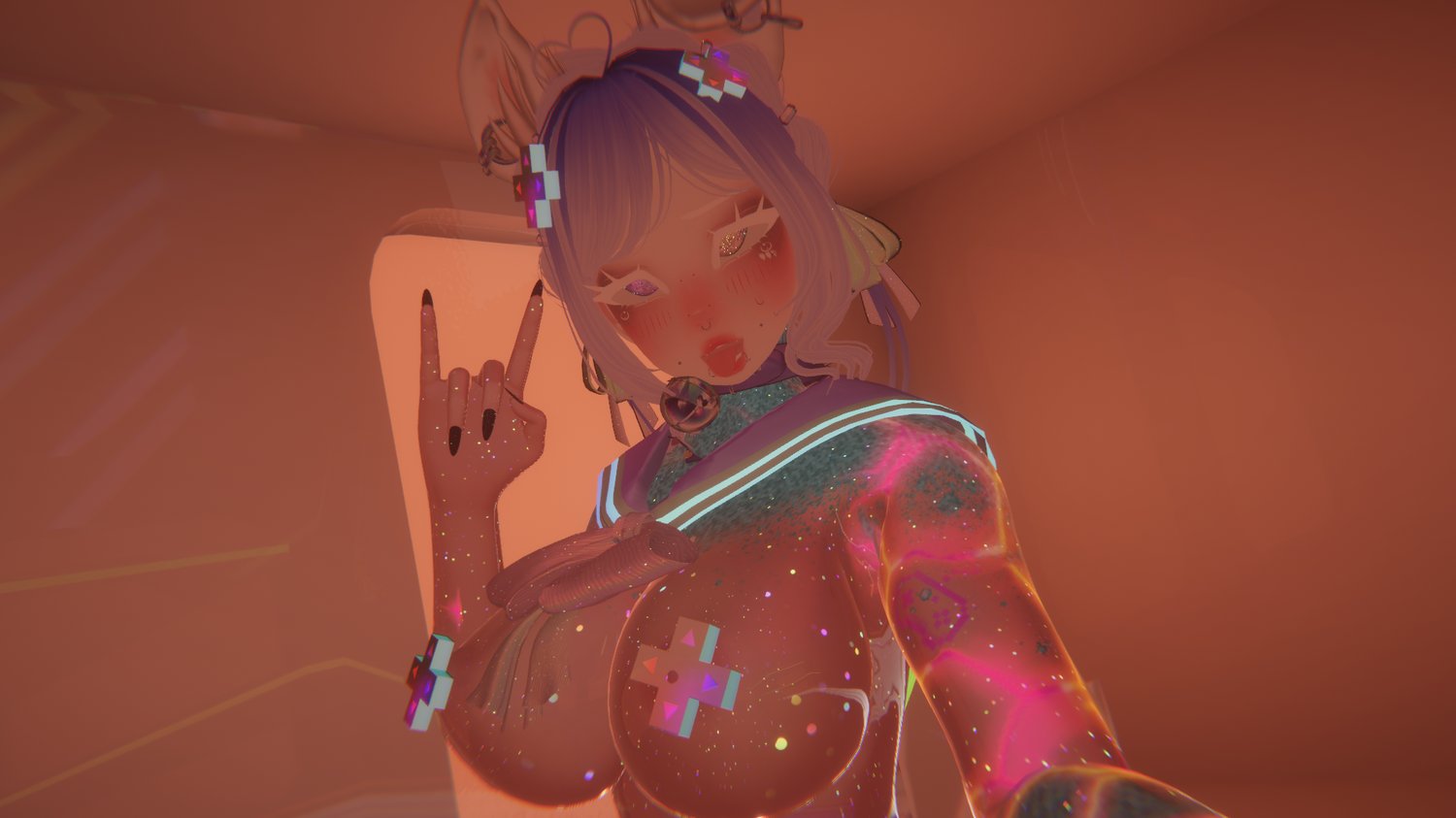 Pixel_Byte.TTV (PC & Quest)


🎮! ! ! Player 1 Defeated ! ! !🎮
>>Fight back
>>Give up
>>Twerk as a distraction
---
🎮

BODY SCALER FROM OUR DEFAULT CURVY TO SLIM!
🎮

When you use your gestures a little chat bubble with an emoji of a puppy pops up and shows everyone the gesture you're using! (this can be toggled of course)
🎮Droppable gamer girl chair!!!!
🎮Choke counter!!!! Every time someone chokes you a counter will pop up with how many times you have been grabbed!
🎮BIG CYBER KITTY PAWSSSS!!!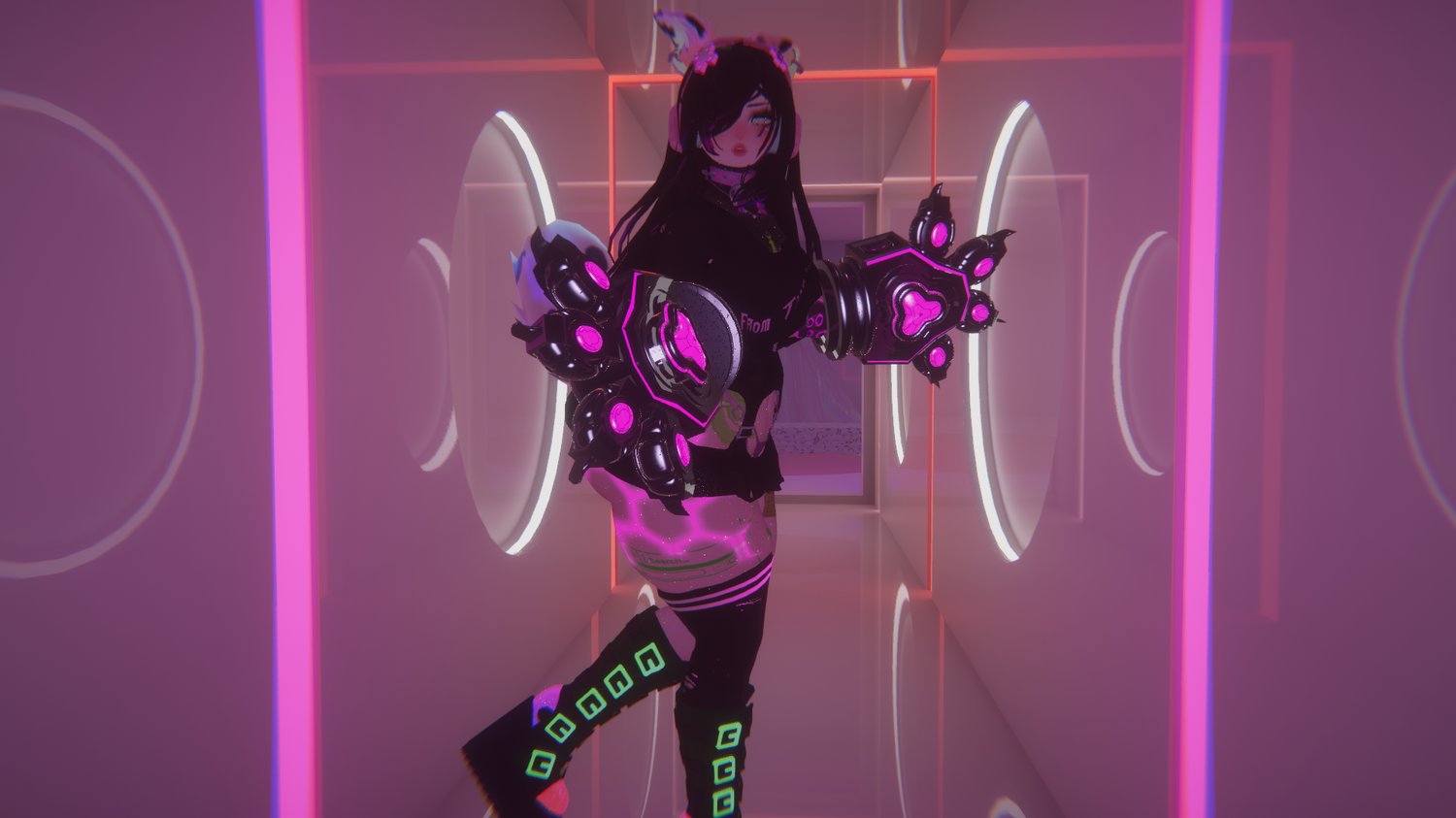 🎮I CANT REALLY SHOW YALL A PIC OF THIS... BUT WHEN YOU POKE THE BOOBAS A LIL BOINGY NOISE PLAYS AND ITS REALLY FUNNY. (this can be turned off!)
🎮TATTOO HUE SHIFT, ALL TATTOOS ARE MASKED AND HAVE SEPARATE EMISSIONS, MAKING FOR VERY MESMERIZING EFFECTS & Tattoo swap from black tattoos with
R

G

B

outlines to pastel tattoos with hue-shift all over!


🎮 You can have a
single

color (hue shift)mode or a

r

a

i

n

b

o

w

mode for all RGB FX!!!


🎮Hair 1
🎮Hair 2
🎮Hair 3
🎮Headphones
🎮Cyberpaws
🎮Puppy ears
🎮Puppy Tail
🎮Skirt 1
🎮Skirt 2
🎮Torn Over top
🎮Fishnet Over top
🎮Sweater Over Top
🎮Gamepad Pasties
🎮Gamer Bikini
🎮Panties
🎮Dress
🎮Head Gamepads
🎮Collar
🎮Sock
🎮Shoes
🎮Piercings
🎮Bone Gag
🎮Sailor Top
🎮TY FTG ear tag!
🎮Pixel Emoji Bubbles with Gestures
🎮Choke Banner (a banner above your head that lets people know how to use your choke)
🎮Boob Contact Receiver (in case you don't want people making boop noises on you)
🎮Gamer Chair
🎮7 Preset Outfits change colors, clothes, make and more at the press of one button !
🎮RANDOMIZER
Instantly swap through a random combination of every toggle, matswap, and hue shift!
🎮GoGo Loco
🎮DPS Included! ( ͡❛ ͜ʖ ͡❛)
🎮Oral, Hands, Ass, Anal, Vag, Feet, Thighs, Tits.
7 Default outfits (presets, you click a button, you change outfits!)
🎮Default Outfit
🎮Dark Tops
🎮Light Tops
🎮Pastel Tops
🎮Tops Hue Shift
🎮Pastel Bottoms
🎮Dark Bottoms
🎮Bottoms Hue Shift
🎮Dark Shoes
🎮Light Shoes
🎮Dark Socks
🎮Light Socks
🎮Pastel Socks
🎮Socks Hue Shift
🎮White Hairclips
🎮Black Hairclips
🎮Dark Choker
🎮Light Choker
🎮Pastel Choker
🎮Choker Hue Shift
🎮Dark Headphones
🎮Light Headphones
🎮Pastel Headphones
🎮Dark Cyberpaws
🎮Light Cyberpaws
🎮Pastel Cyberpaws
🎮Dark Ears
🎮Light Ears
🎮Dalmatian Ears
🎮Dark Tail
🎮Light Tail
🎮Dalmatian Tail
🎮FTG Tag
🎮Ty Tag
🎮RGB Rainbow Mode - Nearly all of Pixel_Byte.TTV's clothes have RGB strips on them! By default they are a rainbow but...
🎮Single Color Mode - Change all your RGB Lights to a single color
🎮Single Color Mode Hue Shift
🎮34 unique hair materials with different emission effects
🎮Hair Hue Shift
🎮Makeup 1
🎮Makeup 2
🎮Makeup 3
🎮Makeup 4
🎮Makeup 5
🎮Eyes 1
🎮Eyes 2
🎮Eyes 3
🎮Eyes 4
🎮Eyes 5
🎮Eyes 6
🎮Eyes Matswap
🎮Black Tattoos
🎮Colored Tattoos
🎮Tattoo Hue Shift
🎮Skin Tone Radial
🎮Black Gamer Chair (RGB / Single Color mode affect this)
🎮White Gamer Chair (RGB / Single Color mode affect this)
🎮Headpat Gesture
🎮Boob Noise
🎮Choke Counter
🎮Choke Gesture
Use These in this order 
🎮Unity 2019.
🎮Using VCC, import the latest base and avatar SDK. This avatar was created using 3.2.0 (or more advanced - use an exported SDK from VCC)
🎮Poiyomi Pro (not Included) Poi toon may work, but I have not tested it.
🎮Raliv DPS if you want it. 
🎮Import Unity Project
🎮Click Open Me and Upload using the SDK
🎮If you have issues with toggles, delete the model in scene and add the prefab to the scene
🎮If textures are pink Select ALL materials in materials folder and change shader to poiyomi. 
🎮Join our Discord and post in the help section if you need any other help!
If you are uploading Quest:
🎮Using VCC, import the latest base and avatar SDK. This avatar was created using 3.2.0 (or more advanced - use an exported SDK from VCC)
🎮Import Pixel_Byte.TTV
🎮Click Open Me and Upload using the SDK
🎮𝗗𝗼 𝗡𝗢𝗧 𝗘𝗩𝗘𝗥 upload these models publicly, they are for private use only. 
🎮𝗗𝗼 𝗡𝗢𝗧 send the avatar package to friends/partners/etc without letting me know in the notes section first. 
𝗢𝗡𝗘 𝗔𝗩𝗔𝗧𝗔𝗥 𝗣𝗨𝗥𝗖𝗛𝗔𝗦𝗘 𝗠𝗘𝗔𝗡𝗦 𝗢𝗡𝗘 𝗣𝗘𝗥𝗦𝗢𝗡 𝗨𝗦𝗜𝗡𝗚 𝗜𝗧. 
🎮Our avatars are 𝗡𝗢𝗧 up for resale or redistribution at all!!!!!!! 
🎮If you have been blacklisted and I see you selling/redistributing/using my assets 𝐈 𝐰𝐢𝐥𝐥 𝐃𝐌𝐂𝐀 𝐲𝐨𝐮.
🎮𝐙𝐄𝐑𝐎 𝐀𝐒𝐒𝐄𝐓 𝐅𝐀𝐑𝐌𝐈𝐍𝐆.. Do not steal assets off of my models and put them up for sale, you must buy assets from the original creator. 
🎮Please don't just make a clone of our avatars and try to sell them. We work very hard on these avatars and if you like them that makes us happy, please allow people to support us so we can keep making them!
🎮You are allowed to use this model for Streams/Tiktok/Whatever. Just make sure to credit me and link my Store Page. 𝐈 𝐰𝐢𝐥𝐥 𝐃𝐌𝐂𝐀 𝐲𝐨𝐮. if credit is not given.
No refunds
Everything on this avatar has been purchased and or was created/frankensteined by us. All Credits below. DO NOT TAKE ANYTHING OFF OF HER. PURCHASE FROM THE ORIGINAL CREATOR.
Head (heavily edited by Spooky NO REUSE.)| Base Heavily edited by Spooky NO REUSE |Hair 1 | Hair 2 | Hair 3|Pool| Like system| Bone gag | Shoes| Fishnet Top| Sweater | Sailor outfit| Skirt| Sockies and gamer top | Top 1 | Puppy ears | Game pads| Cyber paws | Tail | Dress |Oil | headphones|
 Edits, Emissions, Hair textures all Done by Shipwreck and Spooky unless stated otherwise. Base edited by Spookiness DO NOT REUSE OUR TEXTURES, MATCAPS, OR EDITS OF ITEMS.
Quest Conversion by Shace#7016
DO NOT TAKE ANYTHING OFF OF THIS MODEL FOR COMMERCIAL USE OR RESALE. BE SURE TO PURCHASE ASSETS FROM THE ORIGINAL CREATORS. YOU CANNOT TAKE MY TEXTURES OR EDITS EITHER FOR RESALE OR REPUBLISHING. THIS STANDS FOR ALL MY MODELS BOTH BLENDER ASSETS AND UNITY ASSETS.
This model is legally protected. You can and will be DMCA'D if necessary. This is a private model only, one purchase = one wearer no exceptions.
By Spookiness & Shipwreck
Come join our Discord!~ 
♥*♡∞:。.。https://discord.gg/FromtheGraves 。.。:∞♡*♥
misc tags: pixel byte ttv pup puppy pupper doggo dogger cyber paws e-girl e girl gamer gaming