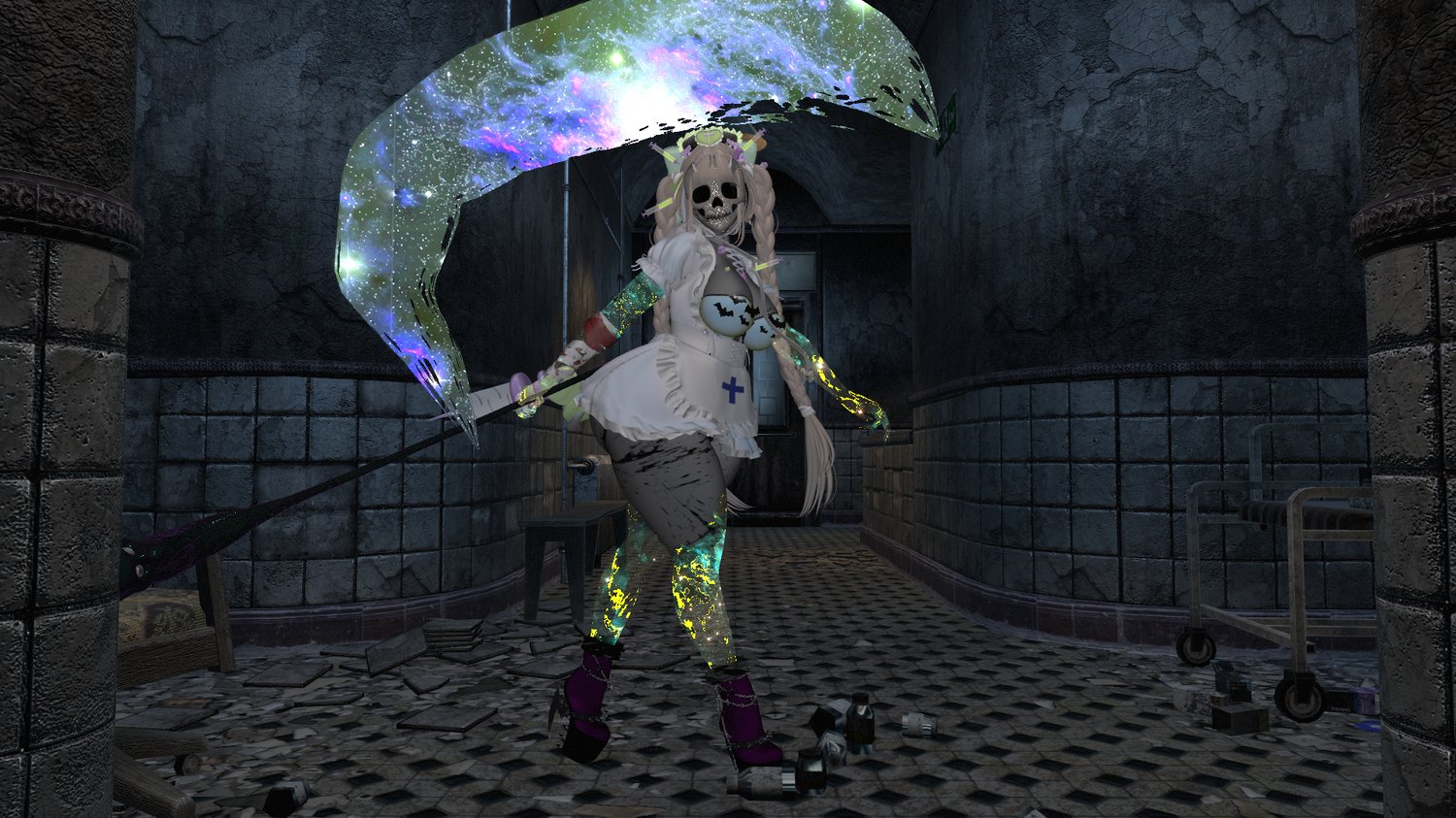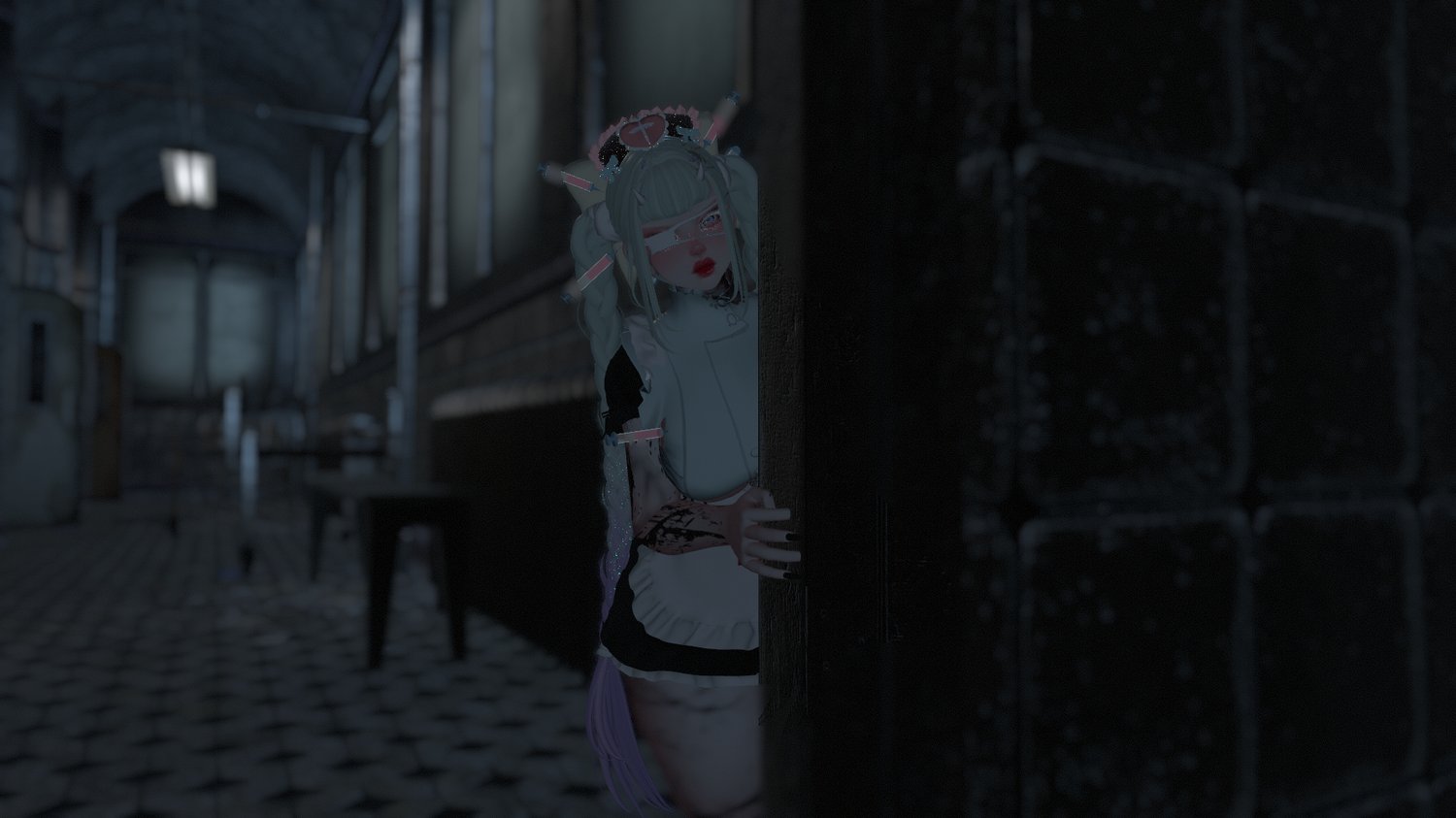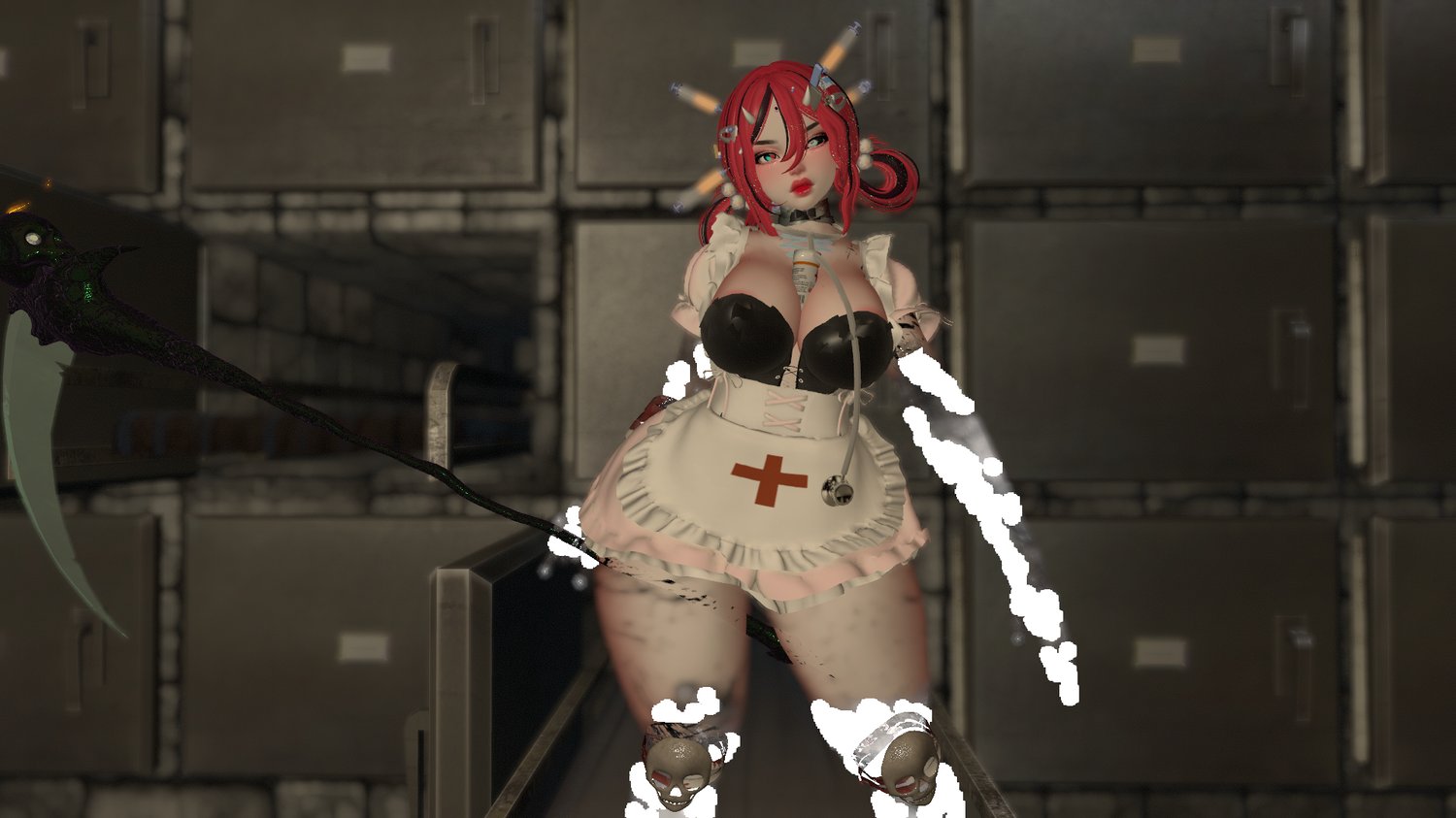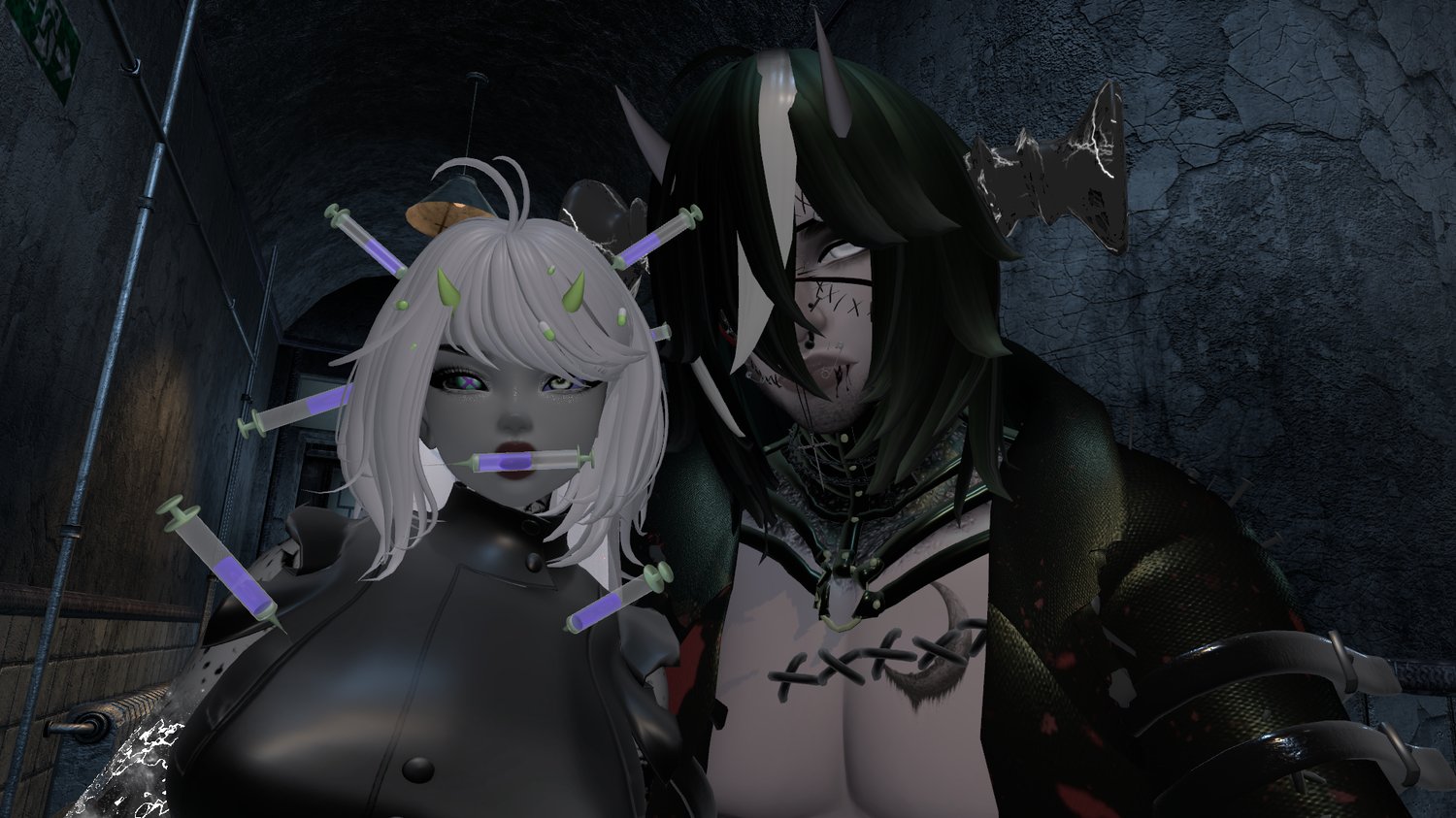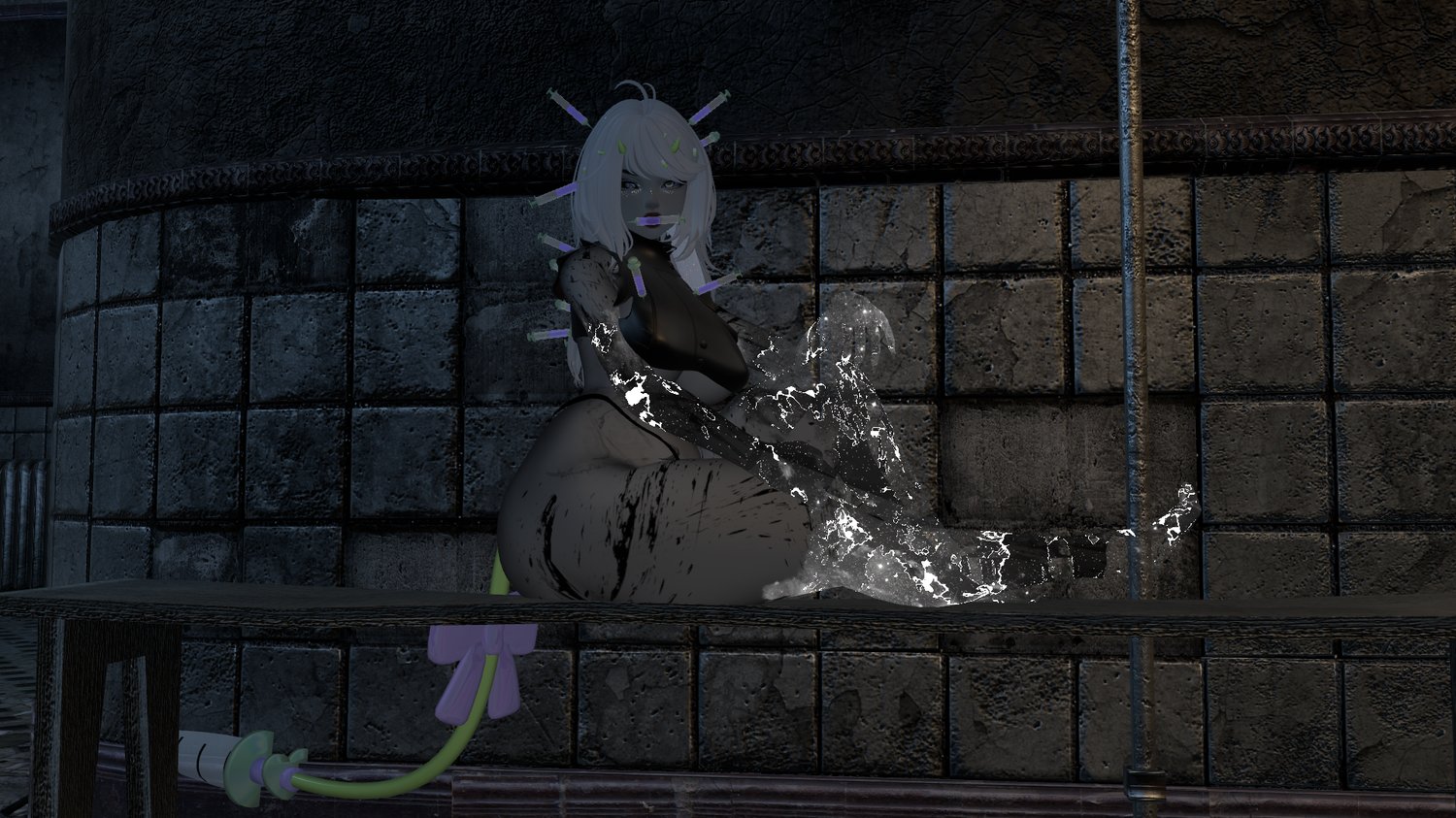 Nurse Grimm
⋆⁺₊⋆ ☾⋆⁺₊⋆💉Don't worry, we will get you all fixed up suga'!💉 ⋆⁺₊⋆ ☾⋆⁺₊⋆


QUEST VERSION COMING SOON, JOIN OUR DISCORD FOR REGULAR UPDATES
Check out our other model, Jekyll & Stein
---


💉Body scaler!


🩺 Body Scaler from
Curvy
to
Slim Thick



💉
Animated Scythe that you can slice into the world and enemies with


🩺 Scythe when slashed into the world will leave behind "Rips" into the void of the cosmos.







🩺Scythe has gesture controls, it spins when it enters your hand (grab it off your back with fist), point spins it once, thumbs up will throw it up in the air and you can catch it, and you can put it back on your back by opening your hand.


💉
Cosmo skin that has an opacity, saturation, and dissolve effect scaler, have your skin be as vibrant and see through, or dull and dense as you would like-
💉
Cosmo skin hue shift
🩺Black Hole Void Headswap - Turn off your whole head and replace it with a black hole that distorts the space around it!





💉
Hairs
🩺Nurse Buns
🩺
Long Messy Hair
🩺Braided Ponytails
🩺Long Down
🩺
Chopped Long




💉
Tops
🩺Nurse Shirt
🩺Fishnet (nsfw when used alone)
🩺Bow Pasties (Can be used with nurse shirt & Fishnet top)
🩺Topless
🩺Batty Corset
🩺Hoodie Add on


💉
Bottoms
🩺Nurse Mini Skirt
🩺Nurse Frilly Skirt (dress add-on)
🩺Panties


💉
Accessories
🩺Arm Cuffs
🩺Arm bandages
🩺Nurse Collar
🩺Bat Collar
🩺Nurse Hat
🩺Back Syringes
🩺Tit Syringe
🩺Chest Syringe
🩺Head Syringes
🩺Mouth Syringe
🩺Skull Knee Pads
🩺Spider Clip
🩺Coffin Clip
🩺Pills In hair
🩺Pill Bottle between boobs
🩺Skull clip in hair
🩺Stethoscope
🩺Chest Lace
🩺Void in the head (No head, just an abysmal void that spawns in its place, and has a bit of distortion around it)
🩺Head Bow
🩺Head Knife
🩺Horns
🩺Syringe Tail
🩺Grim reaper mask


💉
Toys
🩺Scythe with lots of fun interactions!


💉
DPS




💉
Hairs have 24 Materials each choose from
🩺Nurse Buns (split color option)
🩺
Long Messy Hair

(split color option)
🩺Braided Ponytails
🩺Long Down (split color option)
🩺
Chopped Long

(split color option)


💉
Hairs Hue Shift
🩺All hairs hue shift across both of their color options !


💉
Accessories Hue Shift
🩺Arm Cuffs
🩺Collar
🩺Garter
🩺Jacket
🩺Pullover
🩺Arm straps


💉
Boots Hue Shift


💉
Tops & Bottoms Hue Shift
🩺Panties
🩺Pasties
🩺Claw Skirt
🩺Halter
🩺Top Print




💉
Skin Tone for Human Skin
💉
Face and Body Hue Shift Options
🩺Eye Hue
🩺Sclera Hue (works across all 16 combinations)
🩺Cosmos Tattoo Hue
💉
Material Swaps
🩺24 Hair Materials
🩺16 Sclera Combinations
🩺9 Eye Materials
🩺Grey / Human Skin (both work with comsos tattoo)
🩺3 Eyepatch Materials
🩺3 Tail and Horns Materials
🩺3 Tattoos that you can layer





💉Contact Receivers


🩺 Grab the scythe off your back
🩺 Slice the air to create a void







!!!!!!!COMING SOON!!!!!


Use These in this order 
💊Unity 2019.
💊Using VCC, import the latest base and avatar SDK. VCC IS REQUIRED TO UPLOAD THIS AVATAR
💊Import Poi Pro 8.2 (Poi Toon will work, but some materials may appear different)
💊Raliv DPS if you want it. 
💊Import Clawdelle
💊Click Open Me
💊Upload using the SDK
If you are uploading Quest:
💊Using VCC, import the latest base and avatar SDK. VCC IS RECOMMENDED TO UPLOAD THIS AVATAR
💊Upload using the SDK




💊No refunds
💊𝗗𝗼 𝗡𝗢𝗧 𝗘𝗩𝗘𝗥 upload these models publicly, they are for private use only. 
💊𝗗𝗼 𝗡𝗢𝗧 send the avatar package to friends/partners/etc without letting me know in the notes section first. 
𝗢𝗡𝗘 𝗔𝗩𝗔𝗧𝗔𝗥 𝗣𝗨𝗥𝗖𝗛𝗔𝗦𝗘 𝗠𝗘𝗔𝗡𝗦 𝗢𝗡𝗘 𝗣𝗘𝗥𝗦𝗢𝗡 𝗨𝗦𝗜𝗡𝗚 𝗜𝗧. 
💊Our avatars are 𝗡𝗢𝗧 up for resale or redistribution at all!!!!!!! 
💊If you have been blacklisted and I see you selling/redistributing/using my assets 𝐈 𝐰𝐢𝐥𝐥 𝐃𝐌𝐂𝐀 𝐲𝐨𝐮.
💊𝐙𝐄𝐑𝐎 𝐀𝐒𝐒𝐄𝐓 𝐅𝐀𝐑𝐌𝐈𝐍𝐆.. Do not steal assets off of my models and put them up for sale, you must buy assets from the original creator. 
💊Please don't just make a clone of our avatars and try to sell them. We work very hard on these avatars and if you like them that makes us happy, please allow people to support us so we can keep making them!
💊You are allowed to use this model for Streams/Tiktok/Whatever. Just make sure to credit me and link my Store Page. 𝐈 𝐰𝐢𝐥𝐥 𝐃𝐌𝐂𝐀 𝐲𝐨𝐮. if credit is not given.
Everything on this avatar has been purchased and or was created/frankensteined by us. All Credits below. DO NOT TAKE ANYTHING OFF OF HER. PURCHASE FROM THE ORIGINAL CREATOR.
Head (heavily edited by Spooky NO REUSEEE)| Base Heavily edited by Spooky NO REUSE |Hair | Hairs | Hair | Skirt add on | Nurse Outfit | Hoodie | Clips | Stethoscope |Nurse misc acc | Syringes | PIll hair acc, hair bow | Tail, Acc | Heels | Corset |Scythe |
 Edits, Scythe system, Emissions, textures, and etc all Done by Shipwreck and Spooky unless stated otherwise. Base edited by Spookiness DO NOT REUSE OUR TEXTURES, MATCAPS, OR EDITS OF ITEMS.
Quest Conversion by Us!
DO NOT TAKE ANYTHING OFF OF THIS MODEL EVER, NOT FOR COMMERCIAL USE OR RESALE. BE SURE TO PURCHASE ASSETS FROM THE ORIGINAL CREATORS. YOU CANNOT TAKE MY TEXTURES OR EDITS EITHER FOR RESALE OR REPUBLISHING. THIS STANDS FOR ALL MY MODELS BOTH BLENDER ASSETS AND UNITY ASSETS.
This model is legally protected. You can and will be DMCA'D if necessary. This is a private model only, one purchase = one wearer no exceptions.
By Spookiness & Shipwreck (vrchat)
fromthegraves & beyondthegraves (discords)
Come join our Discord!~ 
♥*♡∞:。.。https://discord.gg/FromtheGraves 。.。:∞♡*♥
misc tags: Goth Halloween spooky nurse grim reaper grimm nursegrimm fromthegraves from the graves void stars mystic evil jekyl hyde frankenstein